DA leader Mmusi Maimane dropped a bombshell in parliament on Tuesday during President Cyril Ramaphosa's Q&A session on the VBS saga. It was exposed that Ramaphosa son was involved the in the VBS saga.
Maimane then threw in a follow-up question and told the president he had evidence of a questionable payment of R500,000 that was made to the president's son Andile, an accusation the president denied.
The president said he was aware of the R500,000 Maimane was talking about but said it was received legally from a company Andile did business with.
"It was brought to my attention a long time ago and I proceeded to ask my son what this was all about. He runs a financial consultancy business and he consults for a number of companies and one of those companies is Bosasa, where he provides services of entrepreneurship, particularly on the procurement process, and he advises both local and international companies," he explained.
"I will be the first to make sure he becomes accountable event if it means that I'm the one who will take him to the police station, that I will be able to do," he said.
WATCH: DA Leader @MmusiMaimane reveals a proof of payment and affidavit from a former Bosasa accountant that shows a half million Rand payment was made from Bosasa for the direct benefit of Andile Ramaphosa, President Ramaphosa's son. #RamaphosaQandA pic.twitter.com/mmyn7ybvWu

— Democratic Alliance (@Our_DA) November 6, 2018
"The filter I want you to know I apply as their father: if there is any corruption, I will be the first, if need be, to take them to jail."
"He even showed me a contract that he signed with Bosasa and the contract also deals with issues of integrity. I have made sure that I get the information as much as I can and he is running an honest business."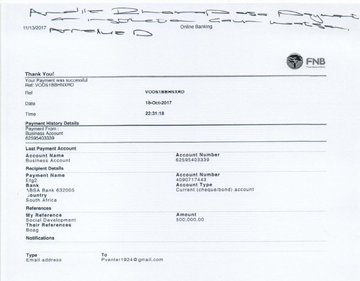 However, the president said if it turned out that his son lied about the payments being illegal he would hold him accountable.